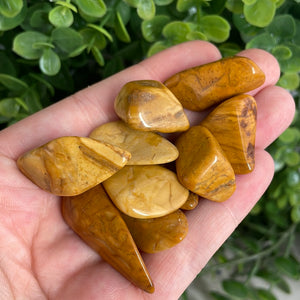 (1) Tumbled Yellow Jasper measuring approximately 1 -1.5 inch each
Yellow Jasper is known as the stone of compassion, it has a gentle and soothing energy. This stone can help us learn to nurture and care for others selflessly. Place a yellow jasper in the center of your work space, it helps to ease stress and channel positive energy.
Jasper is a variety of quartz and/ or chalcedony and comes in many different varieties including cobra, dalmatian, kambamba, bubble bee, leopardskin, mookaite and more. Each variety of jasper has its own unique healing properties but overall jasper is a grounding and protection stone. Use this stone when you want to restart an old project or pick up where you left off again.

Each stone is unique and comes from earth, they can have dents, fractures, cracks, bumps, ect. They may also vary in color or pattern. These unique markings contribute to the natural beauty of the stone. Most photos on this website are stock photos, the specific stone(s) you receive may vary slightly in each shipment.
All metaphysical information posted on Buried Treasures is spiritual advice and should not be taken as medical advice or treatment. For medical advice, please consult a licensed, healthcare professional. Individual results may vary.
Our images are taken by a professional photographer and accurately represent the color of item(s) being sold. Colors may vary depending on your monitor settings, and may differ from the color of the actual item. If you have questions on a specific item please contact us before purchasing, as all sales are final.