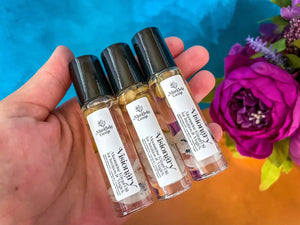 Visionary Essential Oil Roll On by mandala gems
🌙Introducing our VISIONARY Crystal Infused Roll On, crafted with Rainbow Moonstone Crystals + Organic Essential oils of Night Blooming Jasmine, Lavender and Frankincense. As ancient as the moon itself, Rainbow Moonstone holds the power of mystery. It is a Crystal of Magick, the Sacred Feminine, of the Night, and especially connected to La Luna, our Moon. Use often and generously whenever you want to connect deeply with the Divine Essence of the Moon, which will in turn connect you deeper with your INTUITION. Jasmine is considered one of the most powerful flowers used in spell work and magic. It has an intoxicating fragrance + feelings of love and peace RAINBOW MOONSTONE - the MOON GODDESS CRYSTAL, with a very gentle energy. Rainbow Moonstone acts as a prism, diffusing energy throughout the aura. Ingredients: Organic Jasmine sambac essential oil, lavender and frankincense Essential Oils, Real Jasmine Buds + Rainbow Moonstone Crystals infused in fractionated coconut oil.
Excessive use of essential oils may increase the chance of adverse reactions. Use essential oils sparingly, 1-2 times daily.

Do not use on animals and babies, keep out of reach. We do not use preservatives in our blends, please use within 6 months of purchase.

All metaphysical information posted on Buried Treasures & affiliates is spiritual advice and should not be taken as medical advice or treatment. We want to share our knowledge of natural healing and aromatherapy with the world but we do not offer advice with the intent to diagnose, treat or cure any aliment. For medical advice, please consult a licensed, healthcare professional. Please consult with your healthcare provider if you are pregnant, planning to become pregnant or breastfeeding. Individual results may vary. Buried Treasures & affiliates accepts no liability for any harm, damages or reactions that may occur from our products. By purchasing our products, you are accepting of our policies and release Buried Treasures & affiliates from all liability.