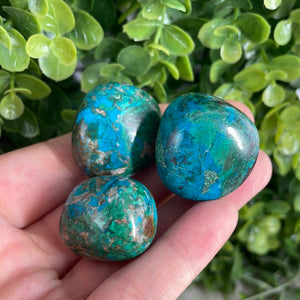 (1) Tumbled Chrysocolla measuring approximately 1.25 inches 
Chrysocolla helps us to balance our emotions and keeps anger and frustrations at bay. This stone reminds you to meditate and relax when you may be overworked, taking care of your needs is essential if you want to be the best version of yourself. A beneficial stone for the throat chakra, assisting in healthy communication. This stone can help you to express your emotions gently and clearly. Keep this stone in the home if the relationship is feeling a little unstable, it can help to balance both parties and keep everyone on the same page.
Each stone is unique and comes from earth, they can have dents, fractures, cracks, bumps, ect. They may also vary in color or pattern. These unique markings contribute to the natural beauty of the stone. Most photos on this website are stock photos, the specific stone(s) you receive may vary slightly in each shipment.
All metaphysical information posted on Buried Treasures is spiritual advice and should not be taken as medical advice or treatment. For medical advice, please consult a licensed, healthcare professional. Individual results may vary.
Our images are taken by a professional photographer and accurately represent the color of item(s) being sold. Colors may vary depending on your monitor settings, and may differ from the color of the actual item. If you have questions on a specific item please contact us before purchasing, as all sales are final.