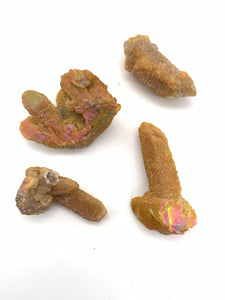 (1) Sunset Aura cluster measuring approximately 2 inches  
Each piece is unique in size, shape and color. If you are purchasing online and would like a picture & description of the exact piece you will receive please email us at buriedtreasuresaz@gmail.com or call us at 623-523-7919, otherwise a beautiful piece will be intuitively selected for you. 

Aura crystals are crystals that have been coated with metal, giving them an iridescent sheen. The process is known as Vapor Deposition. The crystal is heated in a vacuum chamber, then metal vapor is added, metal atoms then fuse to the crystal. This process is most commonly done on quartz but can be done on other crystals. Aura crystals come in a rainbow of colors, each with their own unique metaphysical properties. As a whole, aura crystals have a wonderful, high vibration. They are beneficial in clearing out negative energies and calming scattered emotions.
  
Each stone is unique and comes from earth, they can have dents, fractures, cracks, bumps, ect. They may also vary in color or pattern. These unique markings contribute to the natural beauty of the stone. Most photos on this website are stock photos, the specific stone(s) you receive may vary slightly in each shipment.
All metaphysical information posted on Buried Treasures is spiritual advice and should not be taken as medical advice or treatment. For medical advice, please consult a licensed, healthcare professional. Individual results may vary.
Our images are taken by a professional photographer and accurately represent the color of item(s) being sold. Colors may vary depending on your monitor settings, and may differ from the color of the actual item. If you have questions on a specific item please contact us before purchasing, as all sales are final.