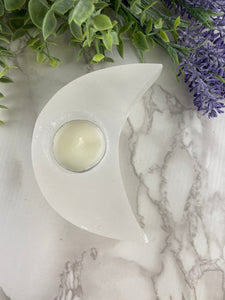 Selenite moon candle holder measuring approximately 3.5 x 5 inch. You will receive one similar to the one pictured. 

Selenite helps us with spiritual fulfillment and spiritual awareness. It helps connect you to ancient knowledge and the wisdom of our ancestors. It helps to clarify the messages being sent from your spirit guides, so that you can clearly and confidently implement this knowledge in your daily life. The pure white energy of selenite helps us to dissipate negative feelings & emotions, turning them into positive ones. It helps you to keep your emotions balanced and maintain mental clarity.
All metaphysical information posted on Buried Treasures is spiritual advice and should not be taken as medical advice or treatment. For medical advice, please consult a licensed, healthcare professional.
Our images are taken by a professional photographer and accurately represent the color of item(s) being sold. Colors may vary depending on your monitor settings, and may differ from the color of the actual item. Each stone is unique and comes from earth, they can have dents, fractures, cracks, bumps, ect. They may also vary in color or pattern. These unique markings contribute to the natural beauty of each stone. If you have questions on a specific item please contact us before purchasing, as all sales are final.
 Please use common sense and precaution when burning candles, incense, sage ect. Do not leave anything burning unattended. Keep items on a heat resistant surface. Always make sure burners are heat resistant and always used in a safe manner. Keep items out of drafty areas and away from vents. Make sure when burning things that produce smoke like sage and incense that you have sufficient flow of fresh air. Keep wicks trimmed to ¼ inch. Do not move candles when lit, wait until wax completely hardens. Keep open flame and burning items away from combustibles. Keep away from children and pets. Burn at your own risk. Buried Treasures assumes no responsibility for any damages that may occur.