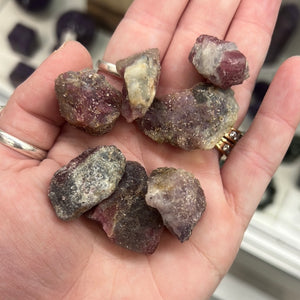 (1) Pink Tourmaline Raw piece measuring approximately 1/4 inch small & 1/2 inch large. You will receive one similar to the ones pictured.
The gentle energy of Pink Tourmaline promotes a sense of comfort and nurturing energy to us, like a warm energetic hug. This stone helps us to clear out old trauma and release pain, allowing room for lace and joy. A deep emotional healer that soothes the heart and quiets the mind, releasing negative thinking. Pink Tourmaline can help to open our heart chakra to accept unconditional love, which starts with loving yourself unconditionally. 
Each stone is unique and comes from earth, they can have dents, fractures, cracks, bumps, ect. They may also vary in color or pattern. These unique markings contribute to the natural beauty of the stone. Most photos on this website are stock photos, the specific stone(s) you receive may vary slightly in each shipment.
All metaphysical information posted on Buried Treasures is spiritual advice and should not be taken as medical advice or treatment. For medical advice, please consult a licensed, healthcare professional. Individual results may vary.
Our images are taken by a professional photographer and accurately represent the color of item(s) being sold. Colors may vary depending on your monitor settings, and may differ from the color of the actual item. If you have questions on a specific item please contact us before purchasing, as all sales are final.