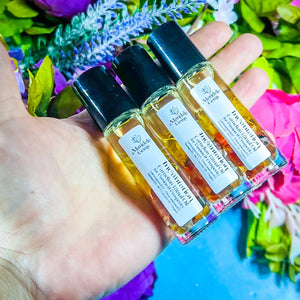 Carnelian Prosperity and Passion Essential Oil Roll On made by Mandala Gems
🧡Delight your senses with the Siren Carnelian Roll On. This magical little roller contains a luscious combination of scents, If I could put the scent into words, it would be the feeling of dancing under the stars on a tropical beach, the breeze heady with the scent of night blooming flowers. The star of the show, Damiana, the ultimate aphrodisiac, flirts with Citrus & Lemongrass for an effervescent, playful and uplifting fragrance. 🍊 Simply roll on your wrists and neck whenever you could use some extra passion & prosperity in your day.
💃 Damiana Essential Oil is very difficult to distill, driving the cost to over $1 a drop! The essential oil, which is steam distilled from the leaves, flowers, and stems of the Damiana plant, has a sweet fruity and floral aroma with earthy undertones.
Directions: Shake gently before each use. Apply a small amount to wrists, temples and/ or behind the ear. Test a small area on the skin before first use, discontinue and seek medical attention if you develop rash or redness. Do not ingest and avoid contact with eyes. For external use only. Not diluted for children. Do not use on animals and babies, keep out of reach. Store in a cool, dry place.
Excessive use of essential oils may increase the chance of adverse reactions. Use essential oils sparingly, 1-2 times daily.

Do not use on animals and babies, keep out of reach. We do not use preservatives in our blends, please use within 6 months of purchase.

All metaphysical information posted on Buried Treasures & affiliates is spiritual advice and should not be taken as medical advice or treatment. We want to share our knowledge of natural healing and aromatherapy with the world but we do not offer advice with the intent to diagnose, treat or cure any aliment. For medical advice, please consult a licensed, healthcare professional. Please consult with your healthcare provider if you are pregnant, planning to become pregnant or breastfeeding. Individual results may vary. Buried Treasures & affiliates accepts no liability for any harm, damages or reactions that may occur from our products. By purchasing our products, you are accepting of our policies and release Buried Treasures & affiliates from all liability.