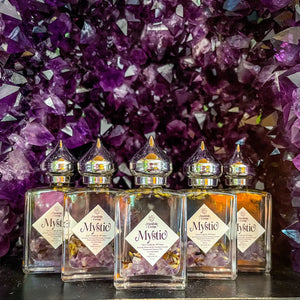 Mystic Natural Perfume made by Mandala Gems
Enjoy an intoxicating scent that relaxes and soothes your mind, body and soul with Mystic Natural Perfume Oil. Crafted with Amethyst crystals and lavender buds, this luxurious perfume comes alive when worn to evoke feelings of peace and serenity. The amethyst stone is known as the creative's muse, which makes this perfect for the artist within or anyone looking to awaken their creativity. Its properties offer a balance of calming and freshness that calms stress and encourages relaxation. a trifecta of lavender essential oils and absolutes add a gloriously floral aroma that helps fight anxiety while inducing sweet dreams. Mystic Ritual Perfume Oil brings you on a fragrant journey to tranquillity sure to ignite your creative spirit. Let its unique scent put your mind at ease as you embrace the peace-inducing energy it radiates - just like a conscious hug from Mother Nature herself.
Directions: Shake gently before each use. Test a small area on the skin before first use, discontinue and seek medical attention if you develop rash or redness. Do not ingest and avoid contact with eyes. For external use only. Not diluted for children. Do not use on animals and babies, keep out of reach. Store in a cool, dry place.
Excessive use of essential oils may increase the chance of adverse reactions. Use essential oils sparingly, 1-2 times daily.

Do not use on animals and babies, keep out of reach. We do not use preservatives in our blends, please use within 6 months of purchase.

All metaphysical information posted on Buried Treasures & affiliates is spiritual advice and should not be taken as medical advice or treatment. We want to share our knowledge of natural healing and aromatherapy with the world but we do not offer advice with the intent to diagnose, treat or cure any aliment. For medical advice, please consult a licensed, healthcare professional. Please consult with your healthcare provider if you are pregnant, planning to become pregnant or breastfeeding. Individual results may vary. Buried Treasures & affiliates accepts no liability for any harm, damages or reactions that may occur from our products. By purchasing our products, you are accepting of our policies and release Buried Treasures & affiliates from all liability.