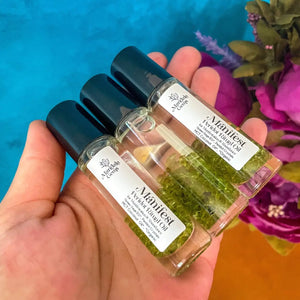 Manifest Essential Oil Roll On by Mandala Gems
Introducing our MANIFESTATION Roll-On, crafted with PERIDOT Crystals and SAGE. Roll on your wrists and neck whenever you could use some extra ABUNDANCE + clearing energy. P E R I D O T - The healing crystal of Peridot was discovered on a little island in Egypt some four thousand years ago where it was worn as a talisman that protected High Priests from any of the Pharaoh's ire. They also used cups fashioned from Peridot in honor of the Goddess Isis, who governed all of nature but particularly the Nile that was the source of Egypt's rich riverbank farmlands. Peridot promotes responsibility and forgiveness, instilling confidence in one's own abilities and reestablishing a sense of self-worth.
Excessive use of essential oils may increase the chance of adverse reactions. Use essential oils sparingly, 1-2 times daily.

Do not use on animals and babies, keep out of reach. We do not use preservatives in our blends, please use within 6 months of purchase.

All metaphysical information posted on Buried Treasures & affiliates is spiritual advice and should not be taken as medical advice or treatment. We want to share our knowledge of natural healing and aromatherapy with the world but we do not offer advice with the intent to diagnose, treat or cure any aliment. For medical advice, please consult a licensed, healthcare professional. Please consult with your healthcare provider if you are pregnant, planning to become pregnant or breastfeeding. Individual results may vary. Buried Treasures & affiliates accepts no liability for any harm, damages or reactions that may occur from our products. By purchasing our products, you are accepting of our policies and release Buried Treasures & affiliates from all liability.