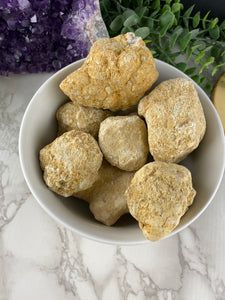 (1) Break your own geode from Utah. These are mined 20-30 feet underground to increase chances of Crystal inside. 90% of geodes contain Crystal insides. 

To break open: Always use protective eyewear and have an adult present at all times. Put geode inside a sock or pillow case and gentle tap with a hammer. 
All metaphysical information posted on Buried Treasures is spiritual advice and should not be taken as medical advice or treatment. For medical advice, please consult a licensed, healthcare professional. Individual results may vary.
Our images are taken by a professional photographer and accurately represent the color of item(s) being sold. Colors may vary depending on your monitor settings, and may differ from the color of the actual item. Each stone is unique and comes from earth, they can have dents, fractures, cracks, bumps, ect. They may also vary in color or pattern. These unique markings contribute to the natural beauty of each stone. If you have questions on a specific item please contact us before purchasing, as all sales are final.