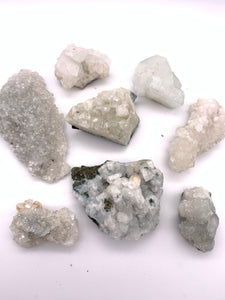 Listing is for (1) Apophyllite Cluster ranging from 2-4 inches each  

Each piece is unique in size, shape and color. If you are purchasing online and would like a picture & description of the exact piece you will receive please email us at buriedtreasuresaz@gmail.com or call us at 623-523-7919, otherwise a beautiful piece will be intuitively selected for you. 
Apophyllite is a stone that helps give us clarity and better understanding of a situation at hand. It can release mental blocks and negative thought patterns, replacing them with positive thoughts. Apophyllite is beneficial for reiki work, taking patients into a deeper receptiveness and moving the healers ego aside so that the transmission of energy is pure. This stone can help you connect you to your spirit guides and develop a stronger bond to their messages.
Apophyllite can vary from super clear to pale green.
Each stone is unique and comes from earth, they can have dents, fractures, cracks, bumps, ect. They may also vary in color or pattern. These unique markings contribute to the natural beauty of the stone. Most photos on this website are stock photos, the specific stone(s) you receive may vary slightly in each shipment.
All metaphysical information posted on Buried Treasures is spiritual advice and should not be taken as medical advice or treatment. For medical advice, please consult a licensed, healthcare professional. Individual results may vary.
Our images are taken by a professional photographer and accurately represent the color of item(s) being sold. Colors may vary depending on your monitor settings, and may differ from the color of the actual item. If you have questions on a specific item please contact us before purchasing, as all sales are final.