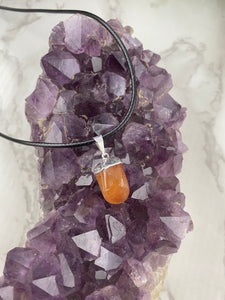 (1) Carnelian Polished Pendant on a black rope necklace. Each piece is unique and varies slightly in size and color.  
The energy of carnelian can make us feel brave and courageous. Use this stone when you need an extra push to take action and turn your dreams into a reality. Carnelian is a stone of motivation and helps us to be successful in business adventures. This stone is known to dissipate feelings of anger and jealousy, helping us to overcome negative thinking.
We use genuine, natural gemstones for all of our jewelry. Each stone is unique and comes from earth, they may vary in color or pattern. These unique markings contribute to the natural beauty of each stone. Our images are taken by a professional photographer and accurately represent the color of item(s) being sold. If you have questions on a specific item please contact us before purchasing, as all sales are final.
We recommend not wearing jewelry in the water, as long-term exposure to water can make the elastic brittle and metals tarnish.
All metaphysical information posted on Buried Treasures is spiritual advice and should not be taken as medical advice or treatment. For medical advice, please consult a licensed, healthcare professional. Individual results may vary.