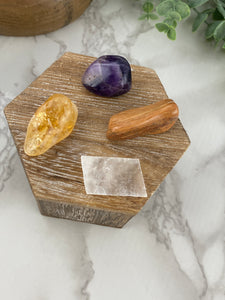 The Virgo Zodiac Crystal Kit includes 4 hand selected crystals for those born between August 23rd- September 22nd
*Carry them with you daily, set them in your office space, keep them on your nightstand, use them during meditation & more.
*Our Horoscope Crystal Kits make the perfect gift for the Virgo in your life.
This kit includes:
-AMETHYST: Virgos have high standards and tend to strive for perfection in all aspects of life, Amethyst helps you to set realistic goals.
-OPTICAL CALCITE: Optical Calcite can help Virgos to get clarity on feelings that may be upsetting them, it can bring awareness to what triggers this sign.
-CITRINE: Citrine promotes self-confidence and helps Virgo deal with unwanted criticism.
-PETRIFIED WOOD: Petrified Wood promotes courage and confidence in the reserved Virgo.
Please note the crystals you receive may vary slightly from the photo, all stones are unique and may vary in color, size, shape or pattern. Our images are taken by a professional photographer and accurately represent the color of item(s) being sold. All stones in our kits are carefully hand selected with care and attention to detail. All stones are cleansed before being sent to their new home. If you have questions on a specific item please contact us before purchasing, as all sales are final.
All metaphysical information posted on Buried Treasures is spiritual advice and should not be taken as medical advice or treatment. For medical advice, please consult a licensed, healthcare professional. Individual results may vary.