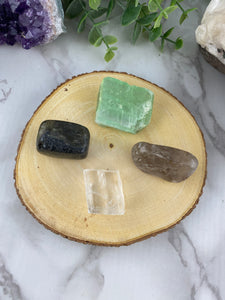 The Scorpio Zodiac Crystal Kit includes 4 hand selected crystals for those born between October 23rd- November 21st
*Carry them with you daily, set them in your office space, keep them on your nightstand, use them during meditation & more.
*Our Horoscope Crystal Kits make the perfect gift for the Scorpio in your life.
This kit includes: 
-SMOKY QUARTZ: Scorpios tend to have a compulsive and forceful attitude, Smoky quartz teaches this sign compromise and understanding.
-LABRADORITE: Labradorite resonates well with Scorpios, it raises consciousness and makes you aware of all your best attributes, allowing your personality to shine from within without coming across overly confident.
-GREEN CALCITE: Cordial communication can be challenging for head-strong Scorpios; Green Calcite nurtures the heart chakra and encourages loving communication.
-OPTICAL CALCITE: Scorpios are natural born go-getters, often time getting in over your head; optical calcite will help clarify the path you should be on.

Please note the crystals you receive may vary slightly from the photo, all stones are unique and may vary in color, size, shape or pattern. Our images are taken by a professional photographer and accurately represent the color of item(s) being sold. All stones in our kits are carefully hand selected with care and attention to detail. All stones are cleansed before being sent to their new home. If you have questions on a specific item please contact us before purchasing, as all sales are final.
All metaphysical information posted on Buried Treasures is spiritual advice and should not be taken as medical advice or treatment. For medical advice, please consult a licensed, healthcare professional. Individual results may vary.