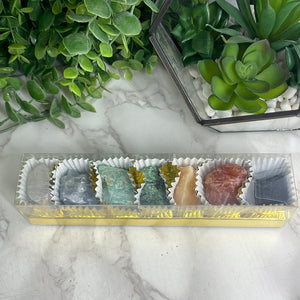 This premium raw chakra set includes 7 stones to help you align your chakras.


Clear Quartz- Crown
Blue Calcite- Third Eye
Amazonite- Throat Chakra 
Ruby Zoisite- Heart Chakra 
Orange Calcite- Solar Plexus
Carnelian- Sacral
Black Tourmaline- Root
Please note the crystals you receive may vary slightly from the photo, all stones are unique and may vary in color, size, shape or pattern. Our images are taken by a professional photographer and accurately represent the color of item(s) being sold. All stones in our kits are carefully hand selected with care and attention to detail. All stones are cleansed before being sent to their new home. If you have questions on a specific item please contact us before purchasing, as all sales are final.
All metaphysical information posted on Buried Treasures is spiritual advice and should not be taken as medical advice or treatment. For medical advice, please consult a licensed, healthcare professional. Individual results may vary.